Sziasztok,
Lillának hívnak, 24 éves vagyok és Budapesten élek. A szenvedélyem az utazás iránt elég korán kezdődött. Gyerekként nem utaztunk külföldi nyaralásokra a szüleimmel, így mindig csak az utazás iránti álmodozás maradt, órákat töltöttem szép helyek nézegetésével az interneten.
Főiskolára mentem, ahol turizmust tanultam és 2014-ben kaptam meg a bizonyítványomat. 2013-ban Anyukám nyert egy utazási utalványt, így lehetőségünk nyílt egy hajóútra elmenni. Egy hét alatt 3 országot, 6 várost látogattunk meg. Ez az út csak még inkább felébresztette az utazás iránti vágyaimat. A főiskola alatt második évben elkezdtem dolgozni és elegendő pénzt tudtam összespórolni, hogy a főiskola befejezése után kéthetes útra induljak Európába egymagam és eljutottam Rotterdamba, Amszterdamba, Párizsba és Brüsszelbe.
2015-ben úgy döntöttem, hogy au pair leszek az USA-ban, hogy többet tudjak utazni az országban (és nyelvet tanuljak, tapasztalatot szerezzek, külföldön éljek stb.). Egy évet töltöttem az Egyesült Államokban és felfedeztem nagyvárosokat, gyönyörű helyeket, tengerpartokat és nemzeti parkokat. Imádtam ott lenni, annyi szuper élményt szereztem. 2016 nyarán visszajöttem Magyarországra, munkát szereztem és azóta is dolgozom. Most a szabadidőmet használom, hogy utazzak és világot lássak a barátommal.
– Lilla
Hello,
My name is Lilla , I'm 24 years old and I live in Budapest, Hungary. My passion for travel came quite early. When I was a kid I didn't travel abroad on vacations with my parents so I've always dreamed of traveling the world, spent hours watching pictures of beautiful places on the internet.
I went to college and studied tourism and got my certificate in 2014. In 2013 my mom won a travel voucher and we took a cruise on the Mediterreanean Sea and visited 3 countries, 6 cities in one week. This trip awakened my desire to travel more. During my second year of college I started to work and saved enough money to go on a 2-week trip in Europe by myself after finishing my studies. I visited Rotterdam, Amsterdam, Paris and Brussels.
In 2015 I decided to be an au pair in the USA to travel the country (and learn English, get some experiences, live abroad etc.). I spent a year in the States and explored big cities, beautiful places, beaches and national parks. I loved it there, so many great memories. I came home to Hungary in the summer of 2016, got a job and I've been working since then. Now I use my time off to travel and see the world with my boyfriend as much as possible.
– Lilla
– ORSZÁGOK, AHOL JÁRTAM / COUNTRIES I'VE BEEN TO –
25 ország kipipálva / 25 countries visited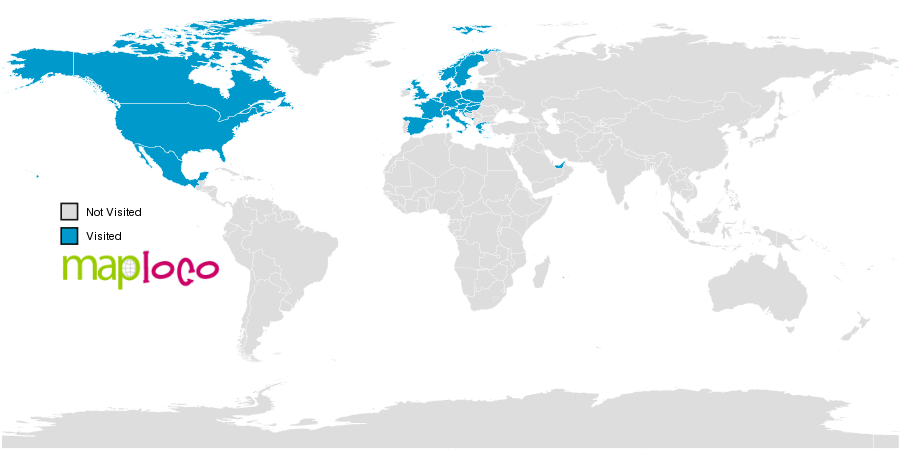 Create Your Own Visited Countries Map